Grits and More
You cannot add "Taste of Lynchburg" to the cart because the product is out of stock.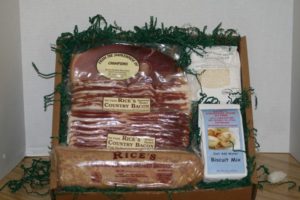 Grits and More
Price Includes Shipping
Nothing says breakfast in the south better than grits, biscuits and country meats. This box contains a 2lb bag of grits, one package of our buttermilk biscuit mix, two slices of center cut ham, one pack of Maplewood Smoked bacon, one pack of Hickory Smoked bacon, and a large poke of smoked sausage.
Out of stock












Source: Tennessee Crossroads
Title: Rice's County Hams
Al Voecks travels to Mt. Juliet to visit the "king of hams."


Source: Live Green TN
Title: Tennessee Cured Ham
In many ways living green simply means revisiting simpler times and smoke-cured country hams have been a tasty tradition in Tennessee since pioneer days.