Sliced Half Country Ham 9-10 lbs
View Cart
"Biscuit Cut Slices" has been added to your cart.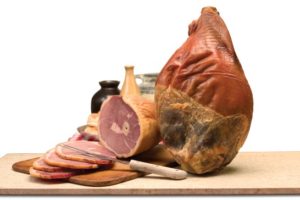 Sliced Half Country Ham 9-10 lbs
Now you can enjoy our famous Country Ham a little at a time. We will slice and vacuum seal your ham in convenient packages. When buying a whole ham or half ham sliced the center slices will be packaged two slices per package. The end slices will be packed with three or more slices per package.
*THESE ARE PRE-CUT WEIGHTS. HAMS LOSE WEIGHT DURING THE CUTTING PROCESS* SEE HAM FACTS FOR MORE DETAILS












Source: Tennessee Crossroads
Title: Rice's County Hams
Al Voecks travels to Mt. Juliet to visit the "king of hams."


Source: Live Green TN
Title: Tennessee Cured Ham
In many ways living green simply means revisiting simpler times and smoke-cured country hams have been a tasty tradition in Tennessee since pioneer days.