Bacon & Biscuits
View Cart
"Grits and More" has been added to your cart.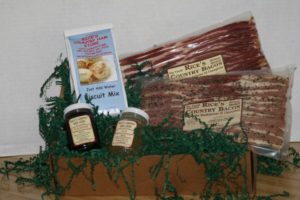 Bacon & Biscuits
Price Includes Shipping
Biscuits, homemade jams and our smoked bacon make a delightful combination. This is the perfect gift for bacon lovers. This box contains one pack of Hickory Smoked Country Bacon, one pack of Hickory Smoked Pepper Bacon, our Buttermilk Biscuit Mix and two 4 oz Homemade Jams.












Source: Tennessee Crossroads
Title: Rice's County Hams
Al Voecks travels to Mt. Juliet to visit the "king of hams."


Source: Live Green TN
Title: Tennessee Cured Ham
In many ways living green simply means revisiting simpler times and smoke-cured country hams have been a tasty tradition in Tennessee since pioneer days.