Sliced Country Ham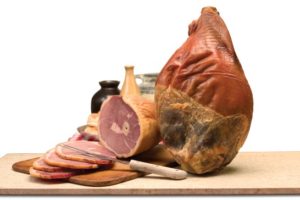 Sliced Country Ham
Now you can enjoy our famous Country Ham a little at a time. We will slice and vacuum seal your ham in convenient packages. When buying a whole ham or half ham sliced the center slices will be packaged two slices per package. The end slices will be packed with three or more slices per package.
15-16lbs $76.99
16-17lbs $80.59
17-18lbs $83.99
18-19lbs $87.59
19-20lbs $90.99
20-21lbs $94.59
These are pre-cut weights. The hams will lose weight during the slicing process. See our question and answer section for more information.












Source: Tennessee Crossroads
Title: Rice's County Hams
Al Voecks travels to Mt. Juliet to visit the "king of hams."


Source: Live Green TN
Title: Tennessee Cured Ham
In many ways living green simply means revisiting simpler times and smoke-cured country hams have been a tasty tradition in Tennessee since pioneer days.